Graduated in modern flute to the Academy of Music "Tito Schipa" of Lecce, he attended the four years ancient flutes' courses with Stefano Bet, Aldo Bova, Marco Rosa Salva, Massimo Lonardi at the Academy of Ancient Music in Venice, the SMAV. 
He attended also the three years Baroque and Renaissance flutes's courses with Marcello Gatti at the Academy of Music "A. Pedrollo" in Vicenza.
He  teachs in the secondary and high schools, thanks to his graduation thesis in the same subject, reached at the University of Lecce, his borning city. He worked with the National Association of Ancient Music and Dance 415, with the Ancient Music branch of the Academy of Music of Bari "N. Piccinni" and of Vicenza "A. Pedrollo".He took part in many live performances in Italy and abroad in collaboration with the Institute for the Studies of the Latin-American Music of the colonial period, the IMLA, whose director is Annibale Cetrangolo. In 2000 he played at the Chiquitos Festival in Santa Cruz and at the University of Sucre, in Bolivia.
In 2002 he discovered the baptism certificate of the notorious american composer of the XVIII th century, Ignatio Jerusalem, working for the IMLA.
In 2002 he played at the International Festival, called "Renaissance Flute Days", in Basle, in Switzerland. He found the Ancient Music Ensemble Euridice, the trio, called Antonio Vivaldi, the Traditonal Irish Band The Buskers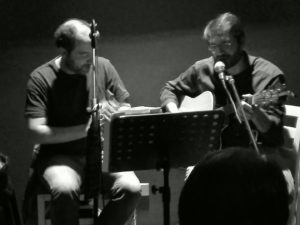 and eventually the Ethno Band Khaossia, besides playing in many others groups, such as Confraternita de' Musici, Capricci Cremonesi and so on.Since 2004 he has been collaborating with the permanent project of the Young Politics Council of Cremona House, called Attraversarte. Since 1999 he has been teaching in italian primary and secondary schools but also abroad, such as in Albany, dividing into traditional teaching methods and musical laboratories.